Gamma Sigma Delta
The Honor Society of Agriculture
The objectives of the Mississippi State University Chapter of the Honor Society of Agriculture, Gamma Sigma Delta, shall be to encourage high standards of scholarship in all branches of agricultural science and education and a high degree of excellence in the practice of agricultural pursuits, by the election to membership of graduating seniors and graduate students who have shown exceptional ability during their undergraduate or graduate work in Agriculture and its closely related disciplines and those alumni and faculty members who have rendered signal service to the cause of agricultural development.
The International Officers of Gamma Sigma Delta are volunteers who are elected at the Biennial Conclave of the Society. There are no paid headquarters staff members. The International Secretary's office serves as the contact point for the International Society and, together with the International Treasurer, coordinates the ordering of membership and awards certificates, plaques, jewelry, and other items for the local chapters.
The International Officers publish an annual newsletter, select the recipient of the Award for Distinguished Service to Agriculture and the Outstanding Chapter Award, annually review policies relating to the Society, encourage establishment of new chapters, work with existing chapters on program development, and plan and conduct the Biennial Conclave with chapter representatives.
Local Chapter Role
The strength of Gamma Sigma Delta is in its 52 local chapters. They operate under the International Constitution and By-laws but otherwise maintain complete choice of and control over their activities. The local chapter´s activities center on recognizing superior achievements through awards and invitations to membership. While all chapters agree on objectives, individual chapter differences occur on how objectives are attained.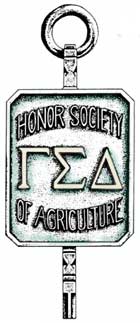 Gamma Sigma Delta, Mississippi State University Chapter